Targeting the right patients for PCSK9 inhibition – ODYSSEY OUTCOMES offers new insights

How do clinicians ensure they gain the best value from PCSK9 inhibition in their very high-risk patients? New subgroup analyses from ODYSSEY OUTCOMES provide important insights.
Read the Report

Professor Gregory Schwartz (University of Colorado School of Medicine, Aurora, USA) discusses
Watch the Video
Professor Philippe Gabriel Steg (Assistance Publique-Hôpitaux de Paris, Paris, France) gives his view
Watch the Video
Are we doing any better with familial hypercholesterolaemia care?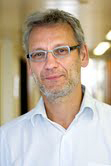 Professor Eric Bruckert, Pitié-Salpêtrière Hospital, Paris, France

Has the care of this common inherited disorder, characterised by high cholesterol levels from birth, improved in the last 5 years? What can we learn from the only global registry?
Read the report
Insights from the EAS FHSC Registry, Prof. Eric Bruckert
Watch the video
Too little, too late: Prof. Raul Santos discusses the EAS FHSC Registry data
Watch the video
2019 ESC/EAS Dyslipidaemia Guidelines and FH, Prof. Eric Bruckert
Watch the video