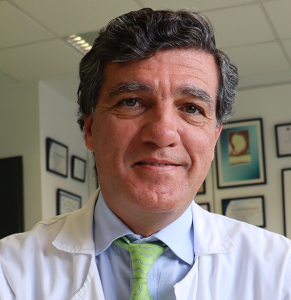 Professor and Head of Cardiology
University Hospital Ramón y Cajal, Madrid, Spain
Professor José Zamorano is the Head of Cardiology at University Hospital Ramón y Cajal. He received his medical degree from University Complutense in 1987 and graduated as a Doctor in Medicine with distinction in 1991. He then received his board certification in Cardiology in 1993 before joining the University Alcala as Professor.
Professor Zamorano has since received fellowships from both the Spanish and European societies of cardiology and an honorary fellowship from the American Society of Echocardiography. He has received the Silver Medal of the European Society of Cardiology (ESC) in 2010.Professor Zamorano has been the Secretary & Vicepresident of the ESC , President of European Association of Echocardiography (EAE), Chair of the ESC Guidelines and  chair of the Global affairs.
Professor Zamorano's research interest in this field is reflected in his considerable contribution to the literature including over 400 publications in peer reviewed journals, more than 400 abstracts presented at congresses and 62 chapters in medical textbooks. IH> 100. Additionally, he serves on the editorial board of almost 20 scientific journals.
« Back to Editorial Board