Beginning of a new era of LDL-cholesterol lowering therapy?

Following the European authority's (CHMP) first positive recommendation of a PCSK9 inhibitor, Forum Editors, Professor John Chapman and Professor Henry Ginsberg, discuss the implications of these exciting new LDL-cholesterol lowering drugs.


Professor John Chapman

Professor Henry Ginsberg
They explore the opportunities for significantly improving risk reduction in patients at high risk including people with familial hypercholesterolaemia (FH); the importance of reducing LDL-C to levels below those achieved with high dose statins; and, the combination of PCSK9 inhibitors with other lipid-lowering drugs including statins, in clinical practice.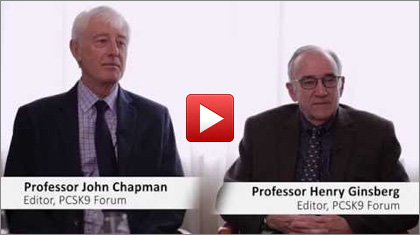 New European Atherosclerosis Society Consensus Panel publishes recommendations on paediatric familial hypercholesterolaemia (FH)
Start early intervention to "normalise" life expectancy
The European Atherosclerosis Society (EAS) Consensus Panel has published a new position paper to raise the awareness of the urgent need to identify and treat children with familial hypercholesterolaemia (FH). The position paper also provides clinical guidance for the diagnosis and care of children with FH.
Latest Videos
Dr Albert Wiegman and Dr Samuel Gidding discuss the EAS Consensus Panel paper on Paediatric FH
Why we need to identify children with FH early by Dr Samuel Gidding
Dr Albert Wiegman emphasises the importance of early treatment of FH in children